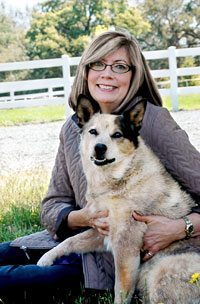 Elizabeth Fulton is an international animal communicator, healer, and author who has been helping animals and their people for more than 15 years.
Elizabeth has always been deeply connected to animals and has always been drawn to healing. As a child she communicated easily and naturally with animals and brought home all kinds of injured animals to nurse back to health. As a young adult she wanted to heal animals professionally but did not feel suited to be a veterinarian. Since there were no other avenues for healing animals at that time, she turned her attention to helping people heal from emotional wounds and trauma. She received a master's degree in clinical psychology and worked as a therapist with children, adults and families. She also studied homeopathy for two years. When Elizabeth learned of Reiki energy healing, she realized that it was an extraordinary way to heal animals, and she reconnected with her true path: helping animals and their people with the challenges they face and strengthening the bond between humans and animals became her mission in life.
Elizabeth is a Reiki master and began her career with animals as a Reiki healer and teacher, working in shelters, with Guide Dogs for the Blind and the Elephant Sanctuary in Tennessee as well as with many private individuals and their animals. Elizabeth was one of the first people to have a Reiki practice devoted to animals and has given thousands of Reiki treatments to animals of all kinds, domestic, exotic, and wild. She has seen Reiki bring about many truly miraculous changes in the health and lives of animals and their people. She is the co-author of the book, Animal Reiki: Using Energy to Heal the Animals in Your Life.
As Elizabeth healed animals, the animals helped her natural ability to communicate with them to grow into a full-time animal communication practice. In time she has found that profound healing occurs using animal communication and flower essences very much as it does with Reiki, and, for the last twelve years, she has used primarily animal communication and flower essences in her work. She has worked with all kinds of animals, literally from A for alligator to Z for zebra. She is a certified Anaflora flower essence practitioner with many years of experience.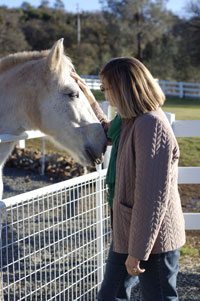 Elizabeth specializes in behavioral and emotional problems, illness and injury, death and dying, and after-death communication with animals. She also works with missing animals. Her clients come from all over the world and from all walks of life, including many in animal-related professions. Elizabeth's assistance enhances her clients' ability to understand and communicate with animals and deepens their connection with animals.
Elizabeth feels honored to be a consultant to a number of zoos, sanctuaries, rescues and non-profit organizations dedicated to wild, exotic and endangered animals. She supports the important work they do in healing individual animals, holding a space for the survival of these remarkable beings, and strengthening our collective bond with them.
In her work with animals her focus is on the deepest levels that are in need of healing and often on the gifts that animals offer us. As a result of her earlier work with people, Elizabeth brings an understanding of how human concerns overlap with the challenges animals face to her work with animals. She helps people understand that consciousness is by no means limited to humans and that animals are spiritual beings in their own right. They have emotional lives very similar to our own, and, sometimes, the challenges that animals face mirror in important ways the challenges that their humans are confronting in their lives. Through their unconditional love for us they often mirror areas within ourselves that need healing or nurturing.
Elizabeth lives with her husband, daughter, dog, cats, and horses in the San Francisco Bay Area and the Sierra Nevada foothills.