Press and Publications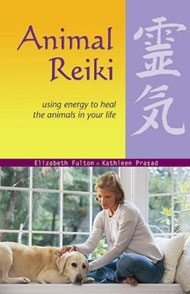 Animal Reiki Book
Elizabeth is the co-author of the book, Animal Reiki: Using Energy to Heal the Animals in Your Life, which is available in bookstores and can be ordered from www.amazon.com and other online booksellers. (Visit www.animalreikibook.com for more information about it.)
Recent Speaking Engagements:
"Holistic Medicine In a Zoo Setting: Animal Reiki & Flower Essences"
Oakland Zoo Continuing Education Series, January 24, 2008.
Radio:
"Emerging Breakthroughs" Radio Show, Voice America – 7th Wave Network
The Visionary Series, Making-It-All-Click.com (podcast)
"Cari Stone Show", 1.FM Internet Radio
Elizabeth's work is featured in the following publications:
Career Profile: Elizabeth Fulton, Animal Communicator, Reiki Master
By Charlotte Cusack, The Oakland Tribune, August 10, 2008, p. CE1&2.
Energy Healing for Dogs: Using Hands-On Healing to Improve Canine Health and Behavior
By Nicole Wilde, Phantom Publishing, Santa Clarita, California, 2009.
Your Reiki Treatment: How to Get the Most Out of It
By Bronwen Stiene and Frans Stiene, O Publishing, Hants, United Kingdom, 2007.
Good Energy
By C. J. Puotinen, The Whole Dog Journal, October 2007.
Animal Reiki
By Patricia Monahan Jordan, DVM, Journal of the American Holistic Veterinary Medical Association, July – September 2006.
Animal Communication: Love Gives Norton a New Lease on Life
By Sharon Callahan, Animal Wellness Magazine, January/February 2005, Volume 7, Issue 1, p. 66-67.
Reiki: The Power of Healing Energy
by Laila Weir, Nirvana Woman, Fall 2004, Volume 1, Issue 2, p. 38-39.
FOR LOCAL PETS, A HEALING HAND
By Alexandra Alter, The Miami Herald (FL), published on August 4, 2004, Page B1-2.
How Reiki Heals: A Hands on Approach to Well-Being
by Nicole Dingwell, Animal Wellness Magazine, Volume 6, Issue 4, July 2004. p. 62-64.
Reiki in Animal Shelters
By Liz Pritchard, Paws 4 Rescue & Animal Welfare (U.K.), Issue 024, June 2004, p. 14-15.
Articles by Elizabeth:
Reiki is a Gateway to Animal Communication
by Elizabeth Fulton, Animal Wellness Magazine, August/September 2005, Volume 7, Issue 4, p. 89-91.
A Different Kind of Reiki Miracle: A Peaceful Transition and the Ability to Let Go
by Elizabeth Fulton and Kathleen Prasad, Reiki Magazine International, February/March 2005, Volume 7, Issue 1, p. 20-21.
Ask Your Question
(A Reiki Master Answers Readers' Questions)
By Elizabeth Fulton, Reiki Magazine International, February/March 2004, Volume 6, No. 1, p. 26.
Healing Animals at a Deep Level: Oscar's Story
By Elizabeth Fulton and Kathleen Prasad
Open Exchange Magazine, October/November/December 2003, p. 21.
Reiki with Animals: A New Holistic Health Option
By Kathleen Prasad and Elizabeth Fulton
Open Exchange Magazine, July/August/September, 2003, p.77.
Learning Lessons: Reiki and Animals
By Elizabeth Fulton and Kathleen Prasad
Reiki Magazine International, Vol. 5, No. 1, February/March 2003, p.32-33.
Reiki and Worry
By Elizabeth Fulton
Reiki Magazine International, Vol.4, No.4, August/September 2002, p.16-17.
Research:
NIH Study: Elizabeth was a participating practitioner in the first Reiki study sponsored and funded by the National Institutes of Health. The study was conducted jointly by the University of Arizona, Phoenix, AZ and the Institute for Frontier Science, Emeryville, CA, 2003-2004.
Berkeley Animal Shelter Study: Elizabeth conducted a ten week study of the effectiveness of flower essences in treating the health and behavior problems of cats at the City of Berkeley Animal Care Services, Summer, 2003.