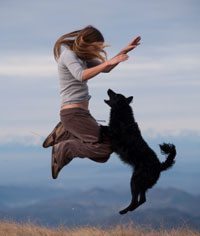 Elizabeth has an extraordinary way of providing multiple pathways of information which otherwise might require assistance from three different professionals. She provides the perfect blend of alternative healing knowledge. She gave me her psychic feedback along with truly amazing direct communication and connection with my ex-race horse, Nite Owl Nick. Her ability to connect human and animal hearts and spirits is truly unique.
My horse and I learned more about each other in 1 hour than we've learned in 2 years of training and physical therapy. I now understand exactly how he feels, why and what he needs from me. Through Elizabeth, he was able to tell me how to find his smile and the change was instant, dramatic and noticed by others. My depressed and indifferent horse now runs to greet me and dives into his halter with joy. His gait has been "off" for all but a handful of days during the last 2 years due to a broken ankle. Why has he been 100% sound since this, longer than he's ever gone with no sign of anything other than a smile? I've been trying to heal his broken ankle, instead of healing his broken heart. Elizabeth is the only thing that changed and she has changed everything.
– Chris Harvey
Clayton, California
---
When I first met Elizabeth and heard about the Reiki treatments she was going to do, I was skeptical but open for anything that could help the animals cope better in this stressful shelter environment. I was amazed at the effect the treatments had and the information Elizabeth would receive from the animals. I particularly remember a tame, older kitten who was unusually nervous and frightened. Elizabeth said the kitten was afraid because a dog had come into the cat room. I said that was crazy…dogs NEVER come into the cat room. But I found out that several days earlier someone had brought in a dog! Elizabeth communicated to the kitten that it was a mistake, would not happen again and overnight the kitten's personality became playful and confident.
In my job as an animal control officer I deal with many frightened or injured animals. I don't know Reiki but after working with Elizabeth I now regularly talk to these animals, telling them what I want to do (catch them), why I want to do it (help them), and exactly what they can expect. I am often amazed at how they decide to cooperate with me.
Elizabeth knows what she's doing!
-Karen McNeil
Animal Control Officer, Berkeley Animal Shelter
---
I felt so lost when my wonderful cat, Ruby, passed away. She was my best friend, she was my soul mate. I was interested in finding an animal communicator to see if it would bring comfort, and I found Elizabeth. Elizabeth was very accommodating and quickly found a time for my phone appointment. I wasn't sure what to expect, but I went into it with an open mind. I was blown away! Elizabeth connected to my cat almost immediately, and her first words to me made me realize that she was indeed communicating with my Ruby. She was able to give me comforting and very healing words that I needed to hear. She addressed my questions and fears without me having to even say them. Ruby's unique personality shined through our entire conversation and I could feel that she was really with us. I can't properly express how helpful Elizabeth was! I highly recommend going to her when you need to communicate with your beloved animals. She has a lot of skill and her talents will blow you away. All of your questions will be answered and all of your worries will be eased.
-Lindsay Souza
Rhode Island
---
I began studying Reiki with Elizabeth a year ago, I found her web site after doing a search for animal Reiki web sites, I immediately fell in love with her point of views and her compassion for all living beings. I immediately purchased her book, Animal Reiki is filled with amazing true stories from Elizabeth and her co-author. It is also filled with valuable information about animal Reiki and should be a required read for anyone interested in learning more and applying Reiki to help heal animals of all shapes and sizes. After reading her book multiple times and reading the articles on her web site, I contacted Elizabeth to consult with her about studying under her and working with her. She has been mentoring me through emails and phone calls, she is the most compassionate person I have ever met, she has an amazing talent not only for helping and healing animals but also for teaching and guiding a person along their path. I have learned so much from Elizabeth that it is hard to put into words, she has taught me so much about Reiki, but the most amazing things she has taught me is how to listen to the animals and learn to be their equal. I have been a dog trainer for over 18 years and what I have learned from Elizabeth over the past year has helped me grow in my methods of dog training as well as my healing practice. I cannot say enough praise for Elizabeth's amazing talents, there is really no words to describe it. I highly recommend all of Elizabeth writings and I also highly recommend that if you have the chance to work with her, take it!
-Amanda Nelson, SAMP
Cataldo, Idaho
---
I spoke with you a few times three years ago about my cat Mo and you were SO amazing and helpful! Your insights allowed me to give Mo the support and love he needed to heal and be at home.
– Vicky Lemont,
Brooklyn, NY
---
Brett and I and I would like to give you a heartfelt thanks for our session, and for helping us to understand our relationship/passing of beloved Alice, and our ongoing sweet blessing that is Halo.
Your session has helped us reframe our emotions-even so quickly afterwards- froma place of deep grief to one of celebration for her gifts and the joy she brought to many people.
We look forward to working with you in the future, and wish you many blessings for a Happy New Year.
Thanks again!!
– Halo & Carla & Brett Mayer,
Philadelphia, PA
---
I wanted to write and let you know how great things are going here for us at the shelter. Our adoptions are up and our animals seem to be more relaxed and less on edge. I want to credit you for that and the help that you have given us.
-Audra Powell
Adoption Coordinator,
Bellwether Harbor Shelter,
Fremont, Missouri
---
My husband Reiner and I have never been in contact with an animal communicator before, so when we contacted Elizabeth we didn't know what to expect from the experience. But since we wanted to contact our beloved dog Suki, we contacted Elizabeth to see how she could help us with that.
From the first moment, Elizabeth was very warm and nurturing, and explained how the process usually worked. The feeling I got during our conversation was one of total commitment to her mission in life. And I say "mission" because it was very clear to me that Elizabeth considers her work a labor of love and her life's work, it isn't just a job!
The reading we got from Elizabeth's contact with Suki was amazing! At first, we weren't really clear on its meaning, but it didn't take long to see what the message was – once we let our hearts see the message, instead of our heads getting in the way with pre-conceived notions. And the best part of all, we know our little canine angel is doing fine on the other side and is keeping very close watch on us still…
I can't thank Elizabeth enough for the comfort her efforts have brought to our lives. Her communication with Suki has enriched our lives and healed many wounds; for that we're forever grateful.
-Sheryl Glausch
Union City, CA
---
I just had to tell you, I called the vet out to check Blackie. She did a bunch of lunging, flexing and she said he's sound and not in any pain. So 4 years after his accident- he's sound. She said he will be fine to ride lightly after being built back up slowly through exercise. I'm not sure he'll want to be ridden but just the idea is enough for me along with the most important thing- he's not in pain.
Blackie received no other form of treatment during this healing other than your work with him. So I directly attribute his healing to the inspiration, love, healing energy and insight you gave us both during our sessions together. Please add this to my testimonial.
THANK YOU!
– Chris Harvey
Clayton, California
---
Last week I rode him for the first time and just walked…he was a doll. This morning I rode him and after trotting around the arena a full circle i just started crying. I think the sensation of him under me without a hiccup in his stride and heart was just overwhelming. Again, he took care of me the whole time without that nervousness I felt under him way back when I rode him. I thanked him and hugged him and drowned him in tears. He knew.
I was happy to have his physical trainer there to watch, the woman who rescued him….but I was missing you. You were the emotional trainer who helped him and I get through this. I am absolutely certain today, as I was then, that his healing (and mine) would not be without your gift Elizabeth. I want you to hear that deep down and I remain eternally greatful for your heart and work. You helped us both turn a corner in a healing path that has taken many years and today I am proud to share the progress with you. My horse, my friend, my love…is healed. As much as can be. He's happy and confident. It's not about riding. It's about love. I still worry…new place, and new friends, do I give him enough etc…any mom would. But I know it's just that and he's fine. He's great! Thank you.
– Chris Harvey
Clayton, California
---
I am in awe of Elizabeth Fulton and her abilities. When our beloved Elliott was dying of cancer, I contacted her to help us with Elliott's peace of mind, to help our four-year-old cat, Tilden and his concerns over his sick friend and for help with Elliott's transition. From the beginning we experienced strange and awesome events. Neither of our cats would approach new people. However, the first time my boys met Elizabeth, they both greeted her. Tilden, with a lot of curiosity which lasted the entire session and Elliott with a brief but sincere "Mawwkk!" when introduced.
From the very moment that she met Elliott she recognized the very special "old soul" that he was and that I had known and loved for more than 15 years. Elizabeth helped Elliott address his final issues and to help make him more comfortable. And most important, she helped Elliott and I say our goodbyes.
After the first visit, which included a Reiki session, Elliott, not one to make physical contact with new people, got up and went to Elizabeth, placing his head in her hand- something that he had only ever done with my husband and me. That was his ultimate way of saying thank you and I love you. He then came over and jumped in my lap, a very happy and contented boy.
Tilden had been acting out a lot toward the end of Elliott's illness. He was agitated, confused and he was attacking me and urinating on our bed. Before the visit Tilden had begun slinking around the house scared, as if he were in constant danger. Immediately after the visit, he was back to being calm and moving through the house normally. Elizabeth, in her quiet way calmed him down and helped him understand what was happening and that he would be all right. After one Reiki visit and two phone sessions, Tilden was a different cat.
Elizabeth is extremely intuitive, very in tune to animals and their people. She made suggestions to my husband and me to help us rethink the way we were dealing with Tilden, to change our behavior in order to help Tilden change his.
Elizabeth is now a permanent part of our pet's Wellness care!
-Julie Hardgrove
Oakland, CA
---
When one of my kittens ran away, I knew immediately that I needed to contact Elizabeth. I wasn't sure exactly how she could help as I was not familiar with the incredible breadth of her talents and services, but I needed something and there was no one else I could go to.
With such incredible presence, attention, and compassion, she listened to me. I told her what had happened, the dynamics of my relationship with this animal, and sent along an image. When she came back to me with her insight, I knew with every part of my being that she was
absolutely correct–about what my kitten was feeling emotionally, why she had left, the significance of the circumstance, and how to call her home. After days of her missing, my confidence was waning, but I trusted in what Elizabeth had told me, and continued calling my lost kitten back to her home.
When she finally appeared, I was completely shocked and, since then, our relationship has transformed! What was once a skittish, nervous, somewhat melancholic kitten has become the most tender, sweet, and loving animal, comfortable with her place in the home and my life. Without Elizabeth's guidance I know that this would not have been possible and, being a skeptic by nature, I can say that I have now told EVERY close friend of mine about the her gifts and have 100% confidence in her abilities to tune into the psyche of animals, communicate with them, and reflect back to the owner exactly the dynamics at play. Not a single doubt remains following this experience, and I would encourage anyone who is yearning to strengthen his/her relationship with an animal to see for yourself just what is possible with Elizabeth's help.
-Siddhartha Shah
Berkeley, California
---
I enthusiastically recommend Elizabeth to anyone wanting insight, help, or more connection with animals who are in their lives. I have six cats, all former ferals. In addition, I often take in feral kittens to foster and socialize. I called Elizabeth for help with some growing disharmony between my cats. She was remarkable in her ability to sense the core issues within each cat, as well as the underlying issues I was having with them. Elizabeth was able to help me break through some important barriers in my relationship with a couple of the cats, and this gave me more understanding, which helped me feel more at ease. I know it helped them as well.
For instance, one cat Harry, who I viewed as a "bully", was according to Elizabeth merely protecting me and was stressed at having to keep so many other cats "in line". When I shifted my thinking due to this insight, I was able to feel less irritated and short with him, and just let him be. He is a sweet cat, not at all a bully, just a leader with a lot on his shoulders! He is more relaxed now.
Elizabeth helped me with some key insights into my most feral cat who has always been a source of concern and worry for me. This cat is more settled now in the home. Elizabeth's talent and commitment to healing animals and the people who care for them, relate to them, is special and valuable. Her approach helps the animals and people in kind. She is a joy to deal with and a great professional.
-Ellen Lynch
Oakland, California
---
"I was introduced to Reiki with the intent of benefiting the elephants at the Elephant Sanctuary in Tennessee. This energy work has proven quite valuable as the elephants seem to resonate to it naturally. I am most thankful to Elizabeth for volunteering to teach my staff this powerful healing tool."
-Carol Buckley, The Elephant Sanctuary
Hohenwald, Tennessee
---
I want to thank you for your truly great and extraordinary gift of communication with my best friend and feline soulmate, Smokie. Your ability to understand and communicate his and also my thoughts,impressions and feelings were such a blessing and made his passing an experience of peace and understanding. Prior to talking and communicating with Smokie through Elizabeth my fears of Smokie 's passing was really an experience I wasn't looking forward to. Smokie was my meditating buddy and had kept me on my spiritual path, so to speak, and I was not able to let go of my friend; but with Elizabeth's help I was able to let go of the fear of being by myself even though the realization and experience of his passing didn't leave me by myself. I even feel Smokie's being more than when he was still here in physical form.
Elizabeth was so helpful with the understanding of thoughts and feelings Smokie was communicating to me thru her which helped me understand that his passing would not leave me alone and that he wasn't leaving me that he would always be looking out for me even though he wouldn't be in his physical body. I would highly recommend Elizabeth for anyone who wishes to communicate with their animal friends. She has such a calming and easy way to help us with whatever we wish to share and communicate to our animals friends.
I'm so glad I got the opportunity to meet Elizabeth and communicate with Smokie. She also helped me with my other feline, Silver, my mom's dogs, Tootsie, Marley and Susie, which I'll share in another testimonial soon.
Thanks again Elizabeth; words can't describe your gift, devotion and heartfelt feelings to all our animal friends.
-Tom Perne'
Grand Rapids, Michigan
---
I wanted to send you some pictures of Ween, the outside cat. This would never have happened if I had not spoken with you and had faith in your gift.
I could not have asked for more from Ween. He finally is staying outside, not so scared of the noises anymore. He lays on the deck as you will see in the pictures. Ghost, Possie, Rufus, and ,when I am out there, Libra are out there with him. He is at the back door as soon as I am up and I let him out. He does go over the fence but always comes back within 15 minutes. We sat outside until 8 pm last night. He just loves it. He has been in and out all morning. I think he is testing me. I have no fear about letting him out anymore and I trust him completely. I know now he is here to teach me about letting go of my fears and trusting in the ones you love. He is such an awesome cat. My heart bursts with love for him.
I could never have done this for him if it weren't for you, Elizabeth.
-Joanne Moynihan
Brigantine, New Jersey
---
It seems like so much has happened in this past year, when we first started talking with Sunny about her issues I had no idea that things would go the way they did for Skye but we are all very happy to have had your help with coping with everything!
We started using the "Bereavement" essence on Saturday. We are all hanging in there, Buffy and Max seem to have settled down, although Rick said that Max never left his side after we went out to class last night. Sunny is sticking very close to whichever of us is home and just laying close to our feet in the living room. A few times I have seen her just standing in the kitchen or the hallway just looking – I almost think she is still looking for Skye, it definitely hit her very hard. She is a huge comfort to me. It's hard to believe that Skye is gone after all these years, she was with us for over half of our married life.
Thank you again for all your support over the last few days, I'm sure that the dogs have found you a great comfort and I know I have, it was especially precious to talk to you the day after Skye passed and walk through what happened for the other dogs. I found it healing for me. Her passing is something I will never forget.
I don't know how to say thank you enough for all the help you have been through the last year or so, I know you have been a huge help with Sunny and she is just continuing to blossom. It's due largely to you that we have been able to keep our family together , I think, and we are all grateful. I hope the new little girl finds you as wonderful as all the rest of us do! – I'm sure she will. We haven't decided on a name yet so maybe they'll have an opinion on that too!
-Chris A.
Milpitas, California
---
I first talked to Elizabeth last year, in 2005. My dog, Veda, had cancer, and I talked to Elizabeth several times and she did distance Reiki on Veda. I was living in Vermont at the time and was in graduate school and with Veda being sick it was an extremely stressful time. I think Elizabeth helped me as much as much as she helped Veda. She gave me several important messages from Veda about taking care of myself.
I was awestruck by how connected Elizabeth made me feel to Veda and the sessions I had with her brought me to much deeper understanding of not only Veda, but of our relationship and of myself.
Veda lost her eye and had a lung tumor removed, but pulled through although the long-term diagnosis was not good, maybe three months. After graduate school, we moved to California for a job and Elizabeth did Reiki on Veda and we had some communication sessions. Again, this made me connected to Veda in a way I cannot explain, but was so substantial and meaningful.
In June 2006, sixteen months after the initial diagnosis, Veda's eye started drooping, the vet said it was allergies. Other things began to happen and I contacted Elizabeth. She did Reiki on Veda and said that she took in a lot of energy around her head and neck. She is the only one who got it right – way before the vets. Veda had a brain tumor. We realized that this was it. Veda went slowly over about five weeks.
If it was not for Elizabeth, I do not know what I would have done. Because of her, Veda's passing ended up being a beautiful and uplifting event. How many people can say that about the death of their closest friend? She helped me understand what Veda was going through and what Veda wanted for me during this time. Veda's last weeks were full of meaning and love and peace.
After Veda died, I expected to feel such grief and sadness. I didn't. I missed Veda terribly, but without the desperate grief I expected. Instead of sadness, I experienced joy about the great life Veda had led. Instead of grieving for her death, I felt her presence. I attribute this to Elizabeth and Veda and the lessons that came out of their communications. As a scientist, initially believing in animal communication was difficult. However, what I experienced with Elizabeth changed my beliefs completely and I am forever grateful.
-Caroline Hermans
Palo Alto, California
---
Toby is stable, your talk with Steph was god sent. It put things in perspective, giving direction on what course of action we should take. Toby is doing quite well. I believe that you being in contact with Toby is helping us in many ways. Thank you for Toby, too.
I want us to adopt this way of treating Toby. I like that Toby, Steph and I are all involved. Thank you again for pointing us in this new and interesting direction. You have opened a new door which we find highly interesting and want to gain knowledge about. Being at peace with one's self and conveying this to our dog is the best thing in this trying time.
-Scott and Stephanie Saito
Manteca , California
---
I feel truly blessed and fortunate to have had the pleasure of working with Elizabeth on two very different, yet both difficult, dogs-in-need situations. The first was for the benefit of one of my foster dogs, Nanuk. A beautiful young girl who'd apparently suffered terribly before she and I crossed paths. Elizabeth worked tirelessly with her, and I'm sure her efforts directly led to Nanuk's finding no less than an absolute perfect permanent home. The second was for the benefit of my own personal dog, Kodi, who had terminal cancer. I'd always had a special bond with Kodi, and the prospect of our time together coming to an end was hard for us both to handle. Elizabeth's assistance helped us come to terms with the inevitable and to handle it with grace and dignity and love. I'll be forever grateful to Elizabeth for her invaluable assistance, and I know both Nanuk and Kodi will be as well.
-Lisa M. Rook
Siberian Husky Rescue/Referral of California
---
I was skeptical when I made an appointment with Elizabeth Fulton, but I was in so much agony over the accidental death of my beloved pet that I would have tried anything. Immediately I felt understood, and enveloped by her sincere concern and compassion. Elizabeth's desire to nurture the human client, the animals, and the bond that connects us is palpable. After several consultations with her, I can honestly say my life has changed. I have grown spiritually and am walking a new path of learning and discovery of my own gifts. I have a keen awareness of the animal emotions around me, and better intuition in all my life choices. Best of all, I have learned a better level of self-forgiveness, that everything that happens to the animals is not my fault to beat myself up over. This has opened a space for inner peace and acceptance of myself and all the lives around me. I recommend Elizabeth Fulton as a living gift to anyone, whether hurting or curious. I absolutely believe you will leave with something special. I always do.
-Rosa Hernandez
St. Louis, Missouri
---
Your kindness, healing, and wisdom made the last months of life for my budgie, Lalla, and I the most peaceful they could have been. How can I thank you?
You may recall that Lalla was a rescued budgie who lived fully in flock of rescues. She developed a tumour in July 2005. I took her to our wonderful avian veterinary practise, where we learned that either surgery or palliative care would be necessary. I was wary.
We put her on some very strong medication which she fought with every fibre of her being. I was deeply concerned. I knew that for this bird, of all birds, surgery would be wrong.
Our vet explained that budgies are "tumour factories" and so the turmour, if excised, would likely resurface.
I found you on the Web, called you, and we talked. While I was skeptical, I was going to do everything I could for Lalla. You worked on Lalla remotely. Your words, however, worked a miracle on me. You taught me how to respond to Lalla, and to the death process.
Lalla died April 10, nine months later. I believe firmly that she lived much longer, and with much higher quality of life than if she had not received your intervention. She lived normally, happily, and apparently strongly until the day she died, when her spirit, weight, musculature, feather, cere, nails and beak were all beautiful, perfect, fine. Her tumour had receded after your work, then grown again. My friends, who saw her near the time of her death, were struck by how happy she was. But her death was what was so amazing.
She was in the most comfortable possible warm hospice enclosure–not caged, for I had rescued her from cages and would never, ever put her back–she was a free flight little girl. But on her last day, still eating and moving normally, she indicated she was tired and needed a physically supportive spot.
When I walked in that evening, she was facing the moon, near but not through the little door. Her head was up, eyes open but showing no signs of fear or pain, wings spread fully, feet back as if she were in full flight. Had I not known at that moment that she was dead, I would not have believed it. The expression on her face was, well, mystically peaceful.
When you worked with me, and with Lalla, you talked about my own responses, ways to love her through this. I am medically inclined and love my vet. What to do? This bird was my most precious charge in all my life. I could not imagine losing her. My grief was simply overwhelming, and that in spite of having lost two precious birds to old age the year before, birds I loved dearly. You helped me not only give her better care than a medical model alone could have provided, but you taught me how to let her live well and trust my instincts. It was a very, very delicate time. Everything you said was spot on.
Immediately after Lalla died, I turned to my flock and pondered each living rescued bird in our flock. I have a lot of experience in guardianship, some avian wisdom, and tremendous heart for them. But there was such grief that I felt my heart would break.
That week, a big, very noisy, demanding bird in dire circumstances was literally "dumped" on our doorstep, frightened, alone, having been alone for years. We had to refuse adoption, for complicated reasons. Ultimately, we chose to care for this bird, at least until we learned what his real need are. I am convinced Lalla sent him! I had little time to grieve, and a lot of loving was required. If this had been a film, nobody would believe the unfolding events.
Love to you, Elizabeth, and God's blessing in your work.
-Mary B
Washington, DC
---
Last summer, during a severe depression I attempted to overdose on sleeping pills. I was in the hospital in the psychiatric department for two weeks. I lived with roomates at the time and had let them know that a friend would be coming by to visit with my two kitties "N" and "F" . I was not close with my roomates and just told them I was in the hospital but did not tell them why. They thought it was something medical. When I got home I saw my cat "F" but didn't see "N". I thought maybe "N" was mad at me because I had been gone for so long but figured she would come out of hiding soon. The whole weekend passed and I didn't see her. I got really worried. I asked my roomates about her and they said she had been gone for a while, but when they didnt see her they had assumed that the friend who came to visit that cats had taken her, so they did not try to contact me in the hospital.
Long story short I found Elizabeth on an internet search. I had never met her before and never done animal communication before but had a good friend who had communicated with his cat who had passed over through an animal communicator. Elizabeth's healing energy came over me right away and even though I had never met her before I started crying and told her why I had been in the hospital. I told her "N" had runaway and told her the whole situation. I did not have any money at the time but she said she was still happy to talk with me on the phone. We spoke for a bit.
A few minutes later I went downstairs to get something in the kitchen and at that moment I heard a scratching on the back kitchen door. I opened the door and there was "N". It was a miracle. She had gotten the vibe that I had been talking with Elizabeth and she felt Elizabeth's energy out there somehow. After being missing for almost two weeks, she appeared moments after i spoke with Elizabeth. I called Elizabeth right away and left her a message that "N" had come back. We spoke later that night and as soon as I got on the phone with Elizabeth "N" who had been in a totally different part of the house was suddently next to me on the couch to be with me and Elizabeth. Elizabeth then proceeded to tell me "N"'s thoughts and I will remember it for the rest of my life. She said "N" had left to look for me because she was worried about me. When she realized she wouldn't be able to find me in the outdoors, she decided to take the time to go on an inner retreat, an inner retreat focused on sending me healing. I was touched to tears. She told me "N" said she would never leave me. It was unbelievably amazing. Thank you.
A year later my cat "F" is having litter box issues out of nowhere and my first idea of course is to set up an appointment with Elizabeth. Thank you for being you.
-Anonymous, Washington DC
---
When my beloved companion Tarah was diagnosed with melanoma of the tongue, I felt my whole world cave in on me. Tarah's Vet explained that she would not have long to live. They had just treated a Chow with the same diagnosis, who lived only five months even after going through chemotherapy. Knowing Tarah's special nature, I knew there had to be a better way for her to pass from this world. I just couldn't bear seeing her go through any pain or be separated from me or those who loved her.
So, I searched the web for assistance and information and found the Animal Healing Institute's website and Elizabeth Fulton. I found the website very informative and Reiki for Animals intrigued me. Even though I was a bit skeptical, I set up an appointment for consultation and Tarah's first Reiki treatment. Tarah and I met Elizabeth in her home. There was so much beauty and peace surrounding her home that I knew I had made the right choice. Upon meeting Elizabeth, Tarah immediately greeted her with a wag of her tail and her nose in the air to say "hi". This was something Tarah never did upon greeting a stranger. I felt in my heart that there was something very special about Elizabeth. She exudes kindness, peace and a love for the work that she does with animals.
Tarah lasted only four months after she was diagnosed with cancer. Working with Elizabeth's guidance, Reiki treatments and her special gift of animal communication made Tarah's final months a beautiful and rewarding experience, with many small miracles along the way. Through Elizabeth's communication with Tarah, I know that Tarah is still watching over me. The love we shared will never die. I will be forever grateful to Elizabeth and will stay in touch because I will have new "companions" in my life. I also know they too will benefit from her wonderful assistance.
-Mary Jo Barrera
Redwood City, California
---
I first contacted Elizabeth when my golden retriever puppy Sasha was showing signs of being extremely sensitive and fearful of other people and animals. From the very beginning of our conversation Elizabeth came across to me as a warm and caring person, one who truly understands and loves animals and I felt extremely comfortable talking with her. She helped me understand what was causing Sasha to behave the way she was and suggested ways of dealing with this issue.
Talking to Elizabeth has been a deeply moving experience for me and I am grateful to her for helping Sasha and I understand what we expect and need from each other. Elizabeth's help has surely deepened my bond with Sasha and we are both much happier for that. The change I have seen in her since we first spoke to Elizabeth has given me the confidence that my relationship with my darling Sasha can only get more beautiful as time goes by.
-Viranjini Gopisetty
Union City, California
---
I contacted Elizabeth when our beloved cat Walter went missing. She not only got back to me immediately but she was also so caring and compassionate about Walter that it really helped me to center myself to better help with the search and the loss. Elizabeth not only answered every e-mail quickly and sent Reiki treatments to Walter but also has followed up to see how things are going. I would highly recommend her services; it is rare to find such a kind, caring and loving individual.
-Kim Abbott
Kim Abbott, Inc., Traverse City, Michigan
---
Our family has a lot to be thankful for this holiday and one of our blessings is being led to find you. Your loving guidance and Reiki made all the difference and we know this is one of the main reasons that Jasmine came through it all with flying colors.
Elizabeth, we consider you to be an important member of Jasmine's health care team and couldn't not have gotten through the last few months without you. We made a point of telling the vets how important of a role you played in Jasmine's road to good health.
My mom and I are also seeing the benefit of the Reiki. My mom especially needed it and says she feels much calmer and peaceful. It's obvious to me how much you love animals and I'm sure this comes through to Jasmine in the Reiki. I know that I was guided to find your website and I am so appreciative of your kind words and support through this whole process. It has meant the world to us.
-Lori Hoch
Mercersville, New Jersey
---
When my beloved eight-year-old cat Cecil was diagnosed with untreatable oral cancer, I of course prayed for a miracle—but I also wanted to do everything possible to make his final days comfortable and peaceful if it was indeed his time to pass on. An unusual series of events led me to the idea of animal Reiki, and then to Elizabeth Fulton. I liked Elizabeth immediately: she was very warm, professional, and sympathetic. I decided to arrange for her to visit Cecil.
Her first visit was remarkable. Cecil was one half of a set of twin brothers—he was the smaller of the two, and shy of strangers; he'd always hide when someone new came to visit, while his brother Domenic, a big ham, typically rolls around on his back to show off his fluffy belly, begging for attention immediately. But when Elizabeth entered my apartment and sat down, Cecil walked right up to her— extraordinary, really—and settled down into a sort of sphinx position on the carpet in front of her, his tail straight out behind him, his ears alert, eyes closed in concentration, as if he'd been expecting her and knew exactly what to do. I was blown away. Also remarkable: Domenic stayed completely out of the way for most of the duration of Cecil's first treatment, as though he knew something important was taking place. Normally he would have been bumping his head against Elizabeth's hands, begging for petting.
Cecil remained perfectly still for almost the entirety of Elizabeth's visit, occasionally commenting on the proceedings with chirps and meows, or twitching his ears. He was quite obviously happier and more energetic afterwards, stretching playfully, almost friskily, as though he felt refreshed.
Prior to his diagnosis and to Elizabeth's first visit, Cecil had been hiding under my bed all day except when it was time to eat (cats who are ailing tend to hide). But after a few Reiki treatments from Elizabeth (both in person and from a distance) Cecil returned to some of his old habits: meeting me at the door when I came home from work, sleeping out in the open on the living room carpet or on the sofa, even playing a little—he was clearly feeling much more comfortable and peaceful. In particular, I was struck by how well he seemed to respond to distance treatments: He would gather himself into a sort of loaf shape, his eyes closed, his ears in alert mode, and when it was over, he'd get up and stretch and chirp as if to say, "ahhhh…thanks for that!" He was always very affectionate afterwards, too, wanting to be petted.
The last time Elizabeth came to see Cecil, she sat on the carpet near him, and Cecil, by this time very weak and thin—the cancer had inexorably progressed and he'd stopped eating—crawled over to her and draped his paws over her legs, purring very quietly. It was simply astonishing, both lovely and heartbreaking. He passed away at home the next day.
I'm confident that Cecil's Reiki treatments improved his quality of life in his final days and enabled him to actually take some pleasure in his remaining time with me and Domenic. My vet was, in fact, surprised when he found out how much longer Cecil had lived after his diagnosis. Though Cecil's passing was a bittersweet, profound and often difficult experience, I found Elizabeth's skill and presence enormously helpful and comforting throughout.
-Julie Long
San Francisco, CA
---
My cat, Button, has had chronic bronchitis for several years. We had tried some immune boosting supplements as recommended by a wonderful vet. There was some relief but not enough and so one day I began to communicate with Button as to what she would like to do about this condition of hers. In particular, I was asking her body using a form of applied kinesiology to find out what kind of treatment she wanted. Her body said no to many types of therapy and healing professionals. She very directly guided me to Elizabeth. Elizabeth took her reading of the situation, sent her Reiki and suggested things that I could do at home to improve Button's condition. Her input was just what was needed. Button is doing better than ever and she tells me that this is the right track to be on for her. I would say that the whole family is benefiting from the better energy that is now in our house, thanks to Elizabeth's advice.
-Anonymous
Orange, CA
---
I talked to you on an animal communication appointment just a little over a year ago. I'm sure you don't remember me or my large family of critters, but I wanted to share a few of the amazing things that have happened since then, and because of that appointment.
I initially contacted you because my 2 yr old cat, Bella, had out of the blue (to me) attacked my dog Emily. I raised Bella from birth after her feral mother gave birth to her in my garage and then left. You said Bella had attacked out of fear. I thought to myself that that was wrong, Bella's a tough little cookie, nothing scares her. I have since discovered that Bella is indeed afraid of the dog – for whatever reason – and in fact she's afraid of a lot of things and her reaction is almost immediately to attack whatever she's afraid of. I never would have seen that if I hadn't talked to you.
I still have to keep Bella separated from Emily, and probably always will.
Bella's feral mother, Belle, still lives in my garage. I put food, water and heating pads out there for Belle and her family. You had said it would be good for Bella to connect with her mother. The very next day after our appointment, when I let Bella out of her room for a couple hours she immediately ran downstairs. That was odd for her but I didn't think a lot about it. And then she did that again the next day and she started doing it every day. Now I was curious. One day I followed her downstairs, into the laundry room. There, right outside the laundry room window was Bella's mother, sitting looking in the window. And Bella jumped up and sat inside, looking out at her mom. I almost started crying. That had never happened before.
Also, Belle had never come anywhere near me or let me approach her in any way. When she looked at me she had that look in her eye that clearly said I was an enemy and not to be trusted. After our talk, almost immediately, that look went away and I could see she clearly was seeing me differently. Shortly after that she started sniffing my fingers if I stretched my arm out to her. Finally, on Feb 5 of this year, almost a year to the day since our appointment, she came up to me when I was sitting on the steps in the garage and let me pet her! Now she's quite the silly little thing. We have a petting session at least once a day and she rolls around on her back and plays with my hand and loves to have her neck scratched. She almost comes all the way up to sit in my lap, but not quite.
I have another "scardy cat", Rosebud, who I also keep separated (in the same room with Bella) from the rest of the animals since she started attacking my other cats when I first brought her in. You said I should try to slowly introduce her to the rest of the cats. I was so sure you were wrong and that would never happen without cat fights everywhere. Once again I was wrong! Rosebud's first response to each of the other cats was aggression – it seemed to be "I'm going to attack you before you attack me". But as each cat didn't attack her, she lightened up. She now spends a good portion of each day running loose in the house. Although she still seems to find solace in being shut in her room with Bella where the other cats can't get to them. Bella also seems to benefit from having time separated from the rest of the animals.
Finally, you had talked about how important it is to some cats to be able to get outside. I have a nine year old cat, Linus, who clearly wanted to go out but I seldom let him out because he would kill so many critters out there. After talking to you I started letting him out regularly during the day, and it just changed who he is. He clearly needed so much more stimulation and excitement than he got inside. He just shines now. And when he started going out all the time, he quit killing other animals (well, most of the time, anyway!). He used to avoid me like the plague. Now he's my best friend, following me everywhere when he's inside (or if I'm out when he's out) and sleeping with me at night.
Thanks for all the help you gave me with my animals. You made me see things in them I never would have seen or believed if I hadn't talked to you. I was so sure I knew my animals so well!
-Nancy,
Stacy, Minnesota
---
We were immensely comforted by Elizabeth's insight and intuitive knowing of what our beloved dog Lexi was feeling and experiencing at the end of her life. Lexi was a beautiful and loving friend, and losing her was certainly difficult for us. Elizabeth's wisdom, kindness and insight has undoubtedly made the pain of our loss more bearable. Her intuition into what was happening with Lexi, and her ability to articulate Lexi's perception of her life experience and its conclusion was both astounding and beneficial. We are grateful to have had the opportunity to share in Elizabeth's wonderful gift.
-Nick and Kathleen Haller
Baltimore, Maryland
---
Just wanted to touch base with you regarding Kitty-cat. There has been a huge turn-around in his and my relationship. I began to talk to him right after you and I finished our session a few weeks ago, and I could see a difference in two days. I addressed the issues you outlined and have continued to mention them from time to time. He looks at me and moves his ears and must be picking up my messages from the heart. Blows me away! It seems as though he does understand lots of words. He seems to be forgiving me and trusting more. I also find him to be less spooky. He likes to spend a lot of time in my lap, which was not the case before. Before he was there for a few moments then would angerly jump down, scowling and hissing.
I am continuing my dialogue with both cats. It has made a huge difference in Kitty – still can't believe it. Peaches has calmed down a lot, because she now has some attention from the cat-person she loves so much (Kitty). Am still using the essences. This has been the most amazing journey and I have even changed. This experience has given me a closer bond with these cats and more peace in my life. Am offering Reiki, but am not sure its coming through (another story). If improvement stopped at this point, I would consider our work a tremendous success!
I am delighted with our progress and am so grateful.
-Douglass Swanson
Beaufort, North Carolina
---
First, thank you for all the help you gave us in a very difficult time. Your kind words and heartfelt insights guided me to make better choices for my kitties and our household.
Your attitude of reverence for all life aided us to balance the needs of each of us, without taking drastic action against our most aggressive little Ashtar. Your communiing with him has helped him to calm down and to learn to express his needs more often by coming to me for help, rather than chasing one of the other kitties. He is not all perfect now, but he is doing a lot better and I remember how you said that he likes it when I tell him he is a "Good kitty", and I use that a lot. He makes eye contact with me a lot more now, as he looks to me for the food, and for what my words mean. I try to give him what he needs but when I cannot, I say, "No" and maybe explain a little and then tell him to "Settle down", and he does seem to obey… for a while. All that is progress.
Your help with beloved Spirit, before and after he crossed over, made a terrible moment, a lot better. You relieved the guilt I could have drummed up against myself. You gave me hope that, in truth, All is well. Now I am able to connect with dear Spirit and just know the love between us. Through your pointing the direction, through him, I am aware of the Great Mystery of Life that all Life is, as well as the charming secret world that the animal kingdoms represent to us humans.
We all hold you in a special place in our hearts.
-Nimueh Rephael
Phoenix, Arizona
---
During the dark times of our beloved Basset Hound, Belle's, battle against cancer, Elizabeth's support and encouragement provided beacons of hope. She assured us that Belle was eager to hold onto life until our son returned from Europe to say goodbye to the dog he had loved since she was a pup with ears almost longer than her body. Belle not only survived until her boy got home, she enjoyed several short remissions and enjoyed a good quality of life. Thank you, Elizabeth, for opening communication doors that enabled comfort and love to flow through.
-Lori Hope
Oakland, California
---
I wanted to let you know that Foz and I and Sporty and Hnokki are doing very well. Foz is back in the house now and is very settled. I talk to him every day, let him know what's up, besides sending him Reiki and using the flower essences. It is a tremendous relief not to have to worry about the house.
The essences, and the Reiki, have also made me feel much calmer and more settled. This whole process has been very helpful and eye-opening to me. I think sometimes we are not aware of how high our own anxiety can be, and then it starts affecting the animals and humans we love.
Thank you again for your help!
-Bob Swandby
Grant's Pass, Oregon
---
I met Elizabeth when my bird was about to die. As a last attempt at saving my ailing pet, I called Elizabeth. I had not the money to take my parakeet to a vet and have her operated on nor did I have any money to pay Elizabeth. What I found absolutely wonderful and unusual about her was that she was completely willing to come over and donate her time for the sake of the bird's life. She gave without any strings attached and left me with a feeling of hope in mankind in that she could extend her services to those in need when necessary. She sat with my bird for at least an hour. I was grateful to have her there. My bird did die that evening and she followed up on her the next day. It was my pleasure to have met such a sincere individual.
-Regina Pontillo
Berkeley, CA
---
It's been just over a year now since Bai-Lee passed. He was my closest companion for 16 years. Although I have known you for a few years, it took Bai-Lee being sick and my need to understand and communicate with him to work with you during this transition. Your communication helped me to understand my place in his life as well as what he was going through during his last few months and even minutes. I have kept all of your email as it gives me some comfort. Your sensitivity to my situation was amazing. Thank you so much.
-Melissa Ryan
Berkeley, California
---
I wanted to let you know that we followed your advice and bought a serenity fountain to entice our 2 little ones to drink water. It worked.
We put in on the kitchen counter so our cats would think they were drinking from something that belonged to us. Sure enough! We heard them in the kitchen and we peeked around the corner and Bandit was drinking from the fountain.
I have the flower essences, but have not tried them yet. I will let you know how Bandit & Tiger do with the essences. You were a great help in giving us a deeper understanding of our 2 girls. You have enabled us to help them by giving us a understanding of where they have come from and what their needs are in body, mind and Spirit. Thanks again for all your help.
-Linda Chapman
Auburn, New York
---
I can't even describe how I feel after having the session on Friday. I am overwelmed with joy and peace, at the incredible gift that you helped deliver; the gift of unconditional love, acceptance, and forgiveness. I feel that I can finally start to heal. I made several arrangements in my home to accomodate the requests that Smokey and Turbo made.
Your empathy and compassion also meant a lot to me, and I thank you very much for that.
-Jina Bae
Clifton Park, New York
---
I had a good visit to Mumbai and Kerala inspite of leaving the very next morning after Lucky was so gently put to his final sleep here. Even as I write you my eyes well up with tears, more for the experience of having had a companion dog for so long and the loving way you walked me through communicating with Lucky; and Dr. Smith's respect for the end of life process with Lucky.
I finally printed pictures I took of Lucky before Dr. Smith arrived. He had no remorse, anxiety in his eyes. In fact he looks like my old Lucky, peaking out of his white eye lashes.
The younger dog did regress. She had been rescued; and Lucky communicated so much to her about the routine here, "just do as I do", which she did follow with his guidance. I felt so sad for her because her mentor disappeared and I also diappeared the next day. She's up to speed now and we will start doggie school with ODTC at the end of January.
Thank you for your kindness, your advice, and for TRANSITION which I keep in view as intentional vibration.
-Priscilla Minn
Pt. Richmond, California
---
I want to let you know that my dog, Frieda, is still living. She is doing well – although her back legs are increasingly weaker. She sleeps most of the day, but she seems quite happy staying in and around the house.
Thank you so much for your communication with her. It made me feel much more comfortable with her age and illness.
-Lisa Lum
Berkeley, CA
It was so nice for me to have the visit with you and feel how easily and purely your intention was to be giving to me in the highest way. Simply being present and fully perceptive for me. The subtlety in this is very healing and is a very sweet gift. It was beautifully quiet and clearly meaningful. Given with love and grace.
-Jan
Houston, Texas
---
Having Elizabeth and Kathleen offer Reiki to the animals here at our shelter is a positive experience in so many ways. We usually ask them to focus on animals that are depressed, sick or who have been here for a long time. Time and again, both cats and dogs that have been despondent become more social and seem happier. Sick animals are aided in their recovery. And maybe most amazingly, animals who have been here for a long time often get adopted shortly after their treatments. After treating animals, Elizabeth and Kathleen often share their perceptions of the animals' mental and emotional states with me. Their perceptions of the animal and its history are accurate and insightful. It's uncanny. Both of them are so professional and cooperative. The staff enjoys having them in the shelter.
-Amelia Funghi
Berkeley Animal Care Services, Berkeley, California
---
We feel fortunate to have trained with Elizabeth and Kathleen. Their depth of knowledge, dedication to the practice of Reiki, and willingness to share their expertise with students has provided us with a lifelong gift. Their continued support makes them invaluable Reiki Masters. The techniques used and taught by Elizabeth and Kathleen allow an animal to participate willingly in sessions and not feel forced. Applying this concept to our work has brought a greater sensitivity toward each animal's receptiveness and state of mind.
One of our primary goals is to reduce kennel stress. Training with Elizabeth and Kathleen has brought us a unique tool that helps alleviate anxiety-related behaviors in our dogs. Reiki has been a welcome addition to our enrichment program and has enhanced the overall experience of dogs in the kennel environment while promoting a deeper human/animal bond.
-Kathy Kelly and Marny Reardon
Guide Dogs For the Blind, Inc., San Rafael, California