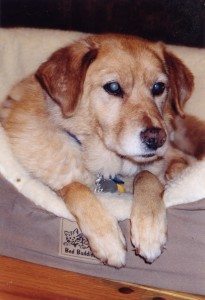 When I first learned Level 1 Reiki, I didn't have much success in treating my dog, Zoe. She was then about twelve and had begun to develop symptoms of kidney disease. When I placed my hands directly on her, or even six to twelve inches away form her, she moved away after only a minute or so, as though Reiki felt too intense for her. Eventually, I concluded that she just did not like it and stopped offering her Reiki. Meanwhile, her kidney symptoms increased.
One day when I was standing at the kitchen sink, I suddenly felt my hands heat up and tingle. When I looked around, there was Zoe about four feet away, looking intently at me. I put aside what I was doing and stood with my hands out, Reiki pouring through them. Soon Zoe lay down on the hardwood floor, which was unusual for her since the hard surface was uncomfortable for her elderly body. But she stayed there for thirty minutes, lightly dozing.
The next day she drank less, needed to go out less frequently, and looked happier and more comfortable. When we went to the vet, her lab tests showed that her urine was more concentrated. Now when she comes to me and lies down nearby with a certain look on her face, I know that she wants Reiki, generally at a distance of three to four feet. With treatments when she seeks them out, her kidney disease has shown very little progression.